FD-1000 Folding Dividers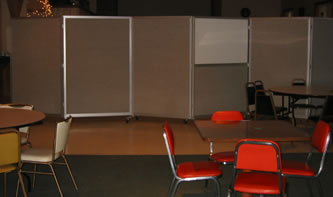 Quick Specs
Panel widths alternates between 50″ and 46 1/2″


Hinge connected panels swivel 180 degrees

Smooth rolling 3″ rubber wheels with step on brakes

Built in marker boards and glass inserts available


1 1/4″ panel thickness is twice that of competition

Frames constructed from 1/16" thick aluminum

Thick sound soaking fabric facings in 48 color choices

Able to Fold into stack for easy moving and storage

Like most of our products the FD-1000 Folding Divider covers a wide range of materials and sizes and they can be custom manufactured into the exact width and height best suited to your requirements.
Our folding divider begins with a single panel. For wider units, we attach additional panels. This is accomplished with a unique hinge system that allows the unit the flexibility to fold into a compact stack that is easily rolled away for storage. This hinge system also allows each panel to swivel 180 degrees to create corners. Our standard folding divider panel can be connected with up to five additional panels for an overall width of 24 feet.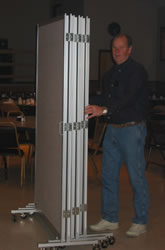 We offer a 6' 6" and an 8' height in our "standard" folding divider units. It is important to note that a 6' 6" (78") divider is the tallest unit that will roll through a standard door opening.
There are 48 colors of 22.5 oz facing materials available in sound absorbing and tackable fabrics. There are two colors available in a tough easy to clean glassboard face and economical sheet rock facing that you can paint to match your decor. Additional options include custom facing, built in marker boards and tempered glass of any size.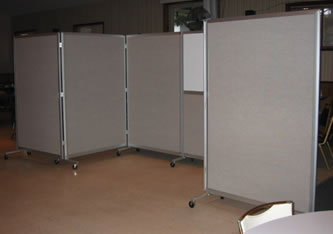 The price varies considerably depending upon the size, the facing materials and the options. The larger the unit, the less the price becomes per square foot. The cost to securely crate and ship these units will depend upon distance and weight. The panels are shipped with the hinge pins removed so they can be individually unloaded and located in your building. Once located they are easily re-assembled by simply re-inserting the hinge pins
Prices and sizes below are for price estimates only. We customize sizes to fit your room and adjust pricing as needed.
FD-1000 STANDARD MODEL – PREFINISHED WOOD FACE
4′ wide
8′ wide
12′ wide
16′ wide
20′ wide
24′ wide
28′ wide
32′ wide
tall
6′ 6″
$453.00
$653.00
$980.00
$1,306.00
$1,633.00
$1,959.00
$2,286.00
$2,612.00
8′
$474.00
$674.00
$1,011.00
$1,349.00
$1,686.00
$2,023.00
$2,361.00
$2,698.00
FD-1500 DELUXE MODEL -  ACOUSTICAL FABRIC FACE OR CLEAN ROOM FRP BOARD WASHABLE FACE
4′ wide
8′ wide
12′ wide
16′ wide
20′ wide
24′ wide
28′ wide
32′ wide
tall
6′ 6″
$609.00
$809.00
$1,214.00
$1,618.00
$2,023.00
$2,247.00
$2,832.00
$3,326.00
8′
$654.00
$854.00
$1,282.00
$1,710.00
$2,137.00
$2,565.00
$2,992.00
$3,420.00
`
CALL 800 257-1190 FOR CRATE & SHIPPING PRICE
The cost to securely crate and ship from our Wisconsin plant usually runs from $300.00 to $500.00.