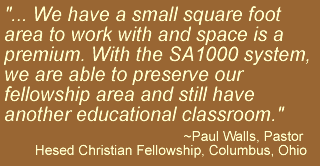 "… The Panel Systems walls have met all expectations and delivered what your company promised.
Sound control is remarkable; room to room noise transfer is minimal even when office doors are open… …these walls were quickly and cleanly installed with very little disruption to regular work activities of the county's staff."
~Terry Mesch
Pepin County Economic Development
---
"I want to take this opportunity to express my appreciation and satisfaction for the room dividers that Kenosha Bible Church purchased from you.
The panels have been in place for nearly one year with no complaints or problems reported. Your panels came to mind this past week as I held three different types of meetings in our main conference room that has one of your dividers in it. The room was changed three different times to accommodate the needs of various meetings.
At one point the dividers were opened to allow for a large group to meet at one time. One of the trustees removed the floor track and placed them in the area provided in back of the panel stack. It took about two minutes and the floor was clear of any obstructions. It showed me the versatility of your dividers.
I also want to thank you for your part in the selection process. As you know, we put very expensive dividers in our fellowship hall and considered putting them in the four rooms that now have your dividers. Upon recommendation from you, we selected your SA-1000 dividers at a substantially lower cost. I have not had any concerns from those using these rooms even with activities going on on both sides of your dividers. The sound absorption is as effective as you proposed.
Again thank you for your interest in Kenosha Bible Church, your help in the installation and the timely delivery of your dividers."
~Ed St. Peter
Chairman of the Board & Chairman of the Building Committee